15 Digital Marketing Tools For Small Businesses
Running a small business can be challenging. Sure, you built the business, but are you marketing it right? What tools do you use? Do you know that digital marketing is an important part of the puzzle in your marketing strategy today? 
When you're just getting started, you'll need all the support you can get in terms of tools that will save you time and money. After many years of running our digital marketing business and dealing with small businesses, we've learned firsthand the importance of knowing what tools are available. Having these digital marketing tools for small business owners can transform your company.
There are various digital marketing tools for small businesses from Email Marketing, Social Media Marketing, Mobile Marketing, Blog Marketing, Web Analytics and more. Small businesses want to develop without investing a lot of money; they want to grow gradually and with little risk. And one of the most effective methods to do so is through digital marketing.
Digital Marketing Tools For Small Businesses
We can't emphasize how important it is to use Google Analytics. Numbers are a marketer's best friend. We utilize numbers to help us make decisions. So, what kinds of decisions might Google Analytics assist you with? Site traffic, landing pages, and the areas from which users access your site, and all of these things are important in establishing the health of your website and marketing plan.
Where are your viewers coming from? Is it organic traffic from Google searches or perhaps redirections from your socials?
With Google Analytics, you can learn a lot about your site and its audience. This is an essential tool for analyzing how well your website is working, and it's no surprise that it's one of the most popular analytics tools accessible today.
Although at first, it can be overwhelming and confusing, there are free courses online to help you learn how to use and master it. So if you want to better understand your audience and what they like on your website, Google Analytics is a great tool to make use of. And the best part? It's free!
Google is the leading search engine for a reason and what's great about them is they offer free tools that you can leverage to improve your site and get it to rank on search. Google Search Console is a great tool to utilize. The reports you get in it can help and assist you to measure the performance and traffic of your website.
With this tool, you can also add a sitemap of your website to get it crawled by Google Bots.
Again, for new users, this tool can be a bit confusing to use but there are a lot of online tutorials to help you with that. And it's a free tool so it's a win-win!
Google Keyword Planner
Google provides a variety of tools and analytical platforms to keep marketers and data analysts happy. Google are never without resources to help you plan, manage, and optimize SEM initiatives. The Google Keyword Planner can be found in the 'tools' section of your AdWords dashboard and you can use it even if you do not pay for AdWords.
This is a fantastic tool that shows you the average monthly search volume for keywords as well as your typical organic ranking for them. You may also filter terms by geography and configure parameters for Google and other search partners.
This is a great tool to use for keyword search and analysis that will help you with your SEO and content marketing.
While the SEO game in the past was all about building backlinks, the new SEO strategies today are more focused on understanding the search intent of keywords for which your website can rank, as well as building relevant and organic backlinks from authority sites.
With these quality links leading users to your content, search engines like Google will learn how your site is reliable and is an authority for a certain niche.
Do you need to conduct keywords research? Do you want to see your competitor's backlinks? Do you want to learn how many backlinks your website has? Ahrefs is the tool for it.
Ahrefs can help you do a complete and competitive analysis of the keywords that your competitors are ranking for in organic search. It can also give you the best keywords ideas, backlink research, content research, rank tracking, and website monitoring.
There is a 7-day trial you can use for only $7 and with it, you'll discover how easy it is to use and how helpful it will be for SEO and content marketing.
If social media is your main platform to reach and engage with your audiences, Sprout Social is a great social media management tool to help you out with your business. With this tool, you can communicate more effectively with your customers on various social media platforms. The tool has a content calendar that you can use to organize your content and schedule them across the multiple platforms you're using.
There is also a feature in this tool that you can use to easily collaborate with your colleagues and customers as well. Moreover, Sprout Social also has a tool to measure your social analytics.
We couldn't emphasize this better but you have to have a social media presence and maintain it if you want to remain competitive in the market. Yes, social media is a big, big place and can be very time-consuming, but luckily there are tools like Hootsuite to help you cut down the time inefficiency when working with your socials.
Hootsuite is a social management platform for all of your channels. It's a powerful tool that allows you to schedule posts in advance with developed tags and keywords, allowing you to prepare all of your social media material for the future weeks or months in a single session.
This tool can also assess ROI, convert leads, and monitor public conversations about your brand or a specific topic. Plans are priced in tiers, with entry-level plans starting at $29 per month and reaching up to $599 per month for enterprise.
To be effective in content marketing, you must conduct thorough research, which is why BuzzSumo is a favorite among most marketers.
BuzzSumo is a one-of-a-kind content research tool that discovers and connects you with top influencers in your field. You can look for hot themes and narrow your search to generate both evergreen and trending content tailored to your target audience. From there, you can then examine your content's metrics and social mentions to determine performance.
This tool also offers more than basic content research, it also has Keyword research, Influencer search, Content analysis, Crisis management, and Brand monitoring tools.
The paid plan starts at $79 per month.
When it comes to SEO, you'll need an all-in-one marketing tool that can not only do keyword research but also help you track how your site is performing: whether that's by tracking keyword positions, site analytics, or backlinks. SEMRush is an all-in-one platform for SEO and your website's visibility and analytics. It can also be used to evaluate organic search ranks for your keywords and see what your competitors have done.
Buffer is another social media management system that's popular with marketers to help organize campaigns. You can link all your social media channels in this tool and schedule out posts in advance. This is a helpful tool to minimize the time you spend on managing your socials as you can have everything in one place.
Buffer allows you to plan, create, and schedule social media posts, track post performance with smart analytics, and communicate with your followers from a social media inbox. Furthermore, you and your team may use Buffer to manage all of your organic social strategies.
MailChimp is a solution for email marketing and social advertising that automates and orchestrates campaigns. It's an excellent choice for small businesses. Mailchimp's basic service is free until you reach 2,000 subscribers on your list. It provides the essential capabilities you require without making managing your email marketing too complicated.
You can track the traffic generated by your campaigns, and MailChimp integrates with a variety of different SaaS firms. The technology is particularly effective for email drip marketing. It's a viable choice for engaging your audience.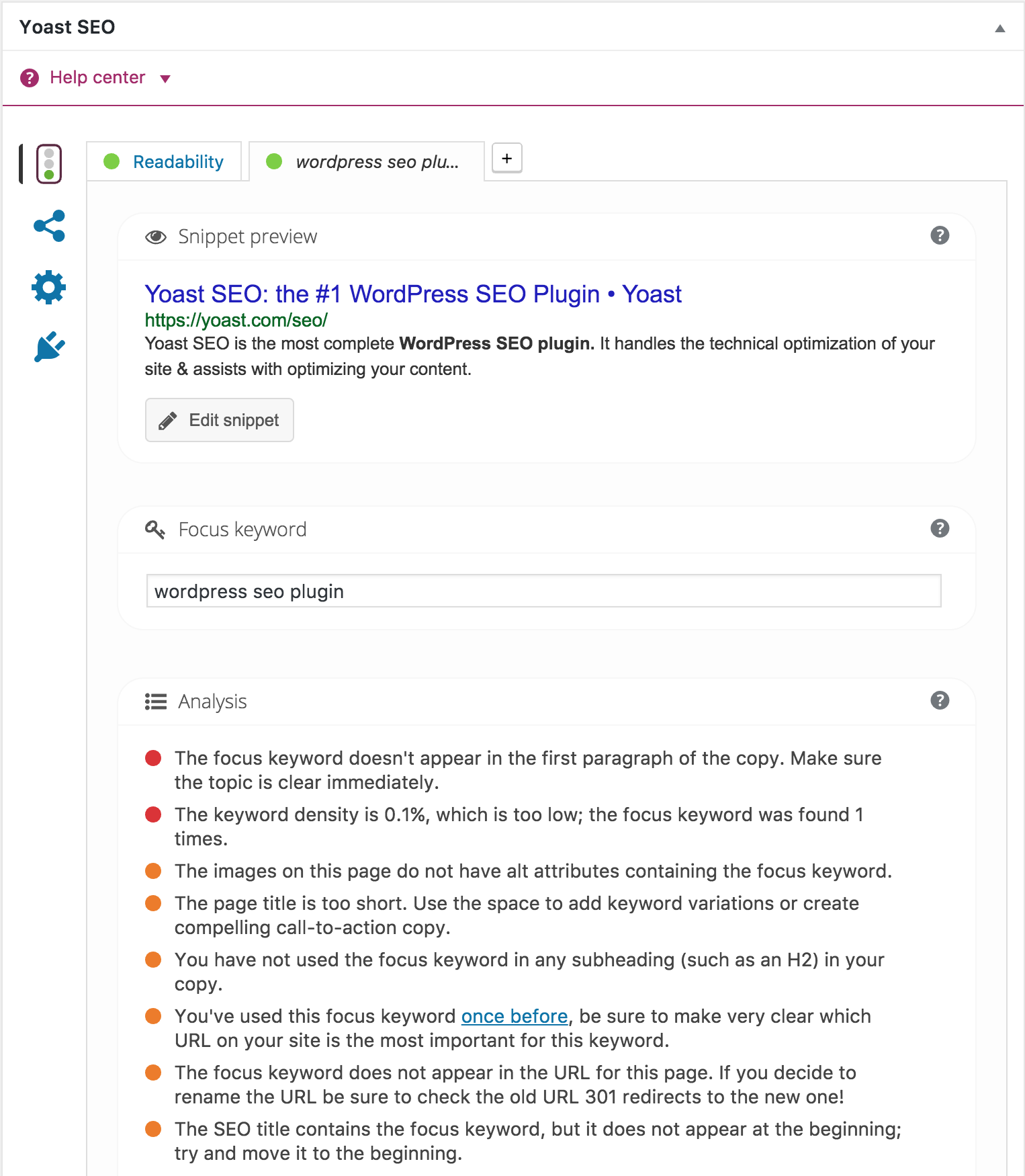 Yoast is one of the greatest digital marketing tools for SEO content optimization because it has a fantastic free version. Yoast will advise you where to put your keywords, how to increase readability, and, perhaps most crucially, what you're doing wrong so you can fix it.
It's a useful and FREE WordPress plugin that analyzes page copy for SEO friendliness based on keyword density, alt-attributes, SEO titles and Meta descriptions, slug, and so on. It cannot guarantee ranking because it has no influence on search engine algorithms, but it provides a good approximation of how well your material is written based on your keyword.
This tool is wonderful to use as a guided SEO editor while writing because it alerts you to crucial on-page SEO methods you should be employing.
Need to create a logo but lack the time or funds? Or a quick social media graphic for a promotion but don't know how to use Adobe?
To keep your audiences engaged, you should use visual content. For any images and graphic design needs, Canva is a great tool. It's a free platform that can assist you in creating bespoke images for social media and other projects. There are templates ready to use to create stunning pictures for everything from business cards to book covers.
This online tool is always evolving, adding new graphic design features and templates for social media, infographics, marketing posters, business cards, eBooks, and everything else you might possibly require. And Canva's free templates are very useful!
Marketing necessitates organization. Trello, like ActiveCollab before it, focuses on project management and organization. It may be used to organize chores, manage projects, and much more.
Trello is simple to use and makes content organization considerably more efficient. It's an excellent tool for organizing and distributing content to team members, as well as keeping track of ideas. And it's free!
The success of any project in the realm of digital marketing tools is dependent on the ease of communication between teams. That is why you should invest in simple software that allows your staff to engage and share data without interruption.
Slack is a popular medium for team collabs. Because of its simple data sharing and simple message search possibilities, this tool has earned the hearts of many digital marketers.
Most significantly, Slack integrates with all major project management, office management, sales, productivity, design, and development tools, allowing you to keep on top of every part of your digital marketing strategy.
With this platform, you can exchange documents, photographs, infographics, and anything else you desire. This platform provides cloud storage for everyone, from businesses to individuals.
You can simply share documents with your colleagues or clients using this cloud sharing service, and because the documents are securely encrypted, you don't have to worry about data theft.
Wrap Up
Digital marketing is not the same as traditional marketing campaigns. As a result, if you use these digital marketing tools for your small business, you will most likely get more out of them. Always remember to think about your users, not just about the size of your business – you need to understand what that unique user will be looking for and fill their needs. There are literally hundreds of digital marketing tools for small businesses available — what works for one may not work for another.
Visit our blog for more articles like this and like our Facebook Page.